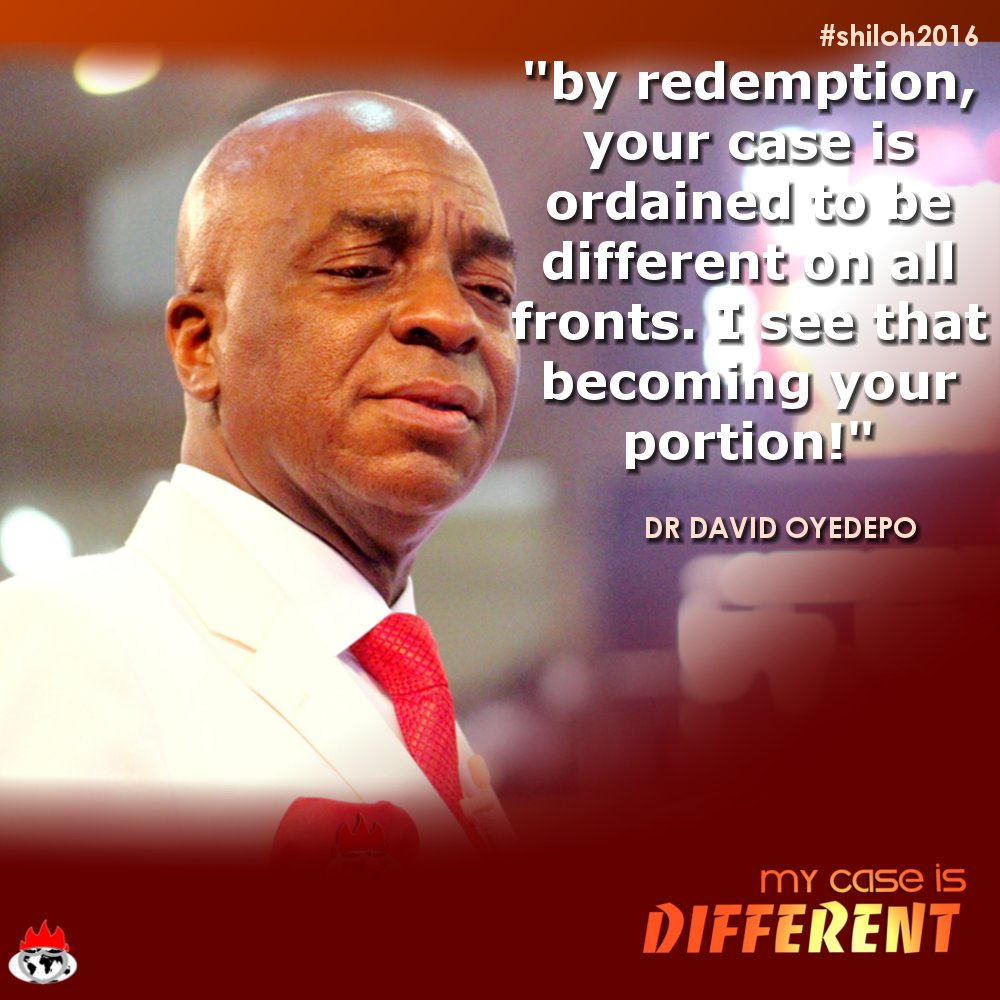 What makes your case different?
At redemption there is a mark of touch-not placed on us, Galatians 6:19, Ezekiel 9:6
By redemption we are redeemed as heavenly citizens; ambassadors of the kingdom of our origins Ephesians 2:6. All ambassadors are taken care of by their country of origin therefore, we must try to have the ambassadorial mentality, Colossians 1:13. It is not what you have but what you learn that secures your future; and what you do with what you learn. 1 Peter 2:9 we redeemed to live a marvelous life. Psalm 125:1-3.
By Redemption your case is ordained to be Different: God is eternally up to any situation, He fed 3million Jews for 40years. God is more than a enough for anything you could ever need therefore, your case is different. Malachi 4:1-2, Genesis 47:27.
God has not changed and cannot change, Exodus 8:22-24 Exodus 9:1-7, Exodus 9:29. We need this exemption mentality to be able to stay in-charge in these times, Exodus 10:21-23, John 1:1-9, Exodus 11:4-7, Exodus 12:29-31.
Every seed of Abraham is ordained to be triumphant in the time of famine Genesis 13:2, Genesis 26:1-2, Genesis 41:57, Genesis 42:2. Whatever you don't believe and accept cannot happen in your life. To command financial dominion we must take note of the following
By redemption we belong to a new kingdom under a new constitution and we must become acquainted with the details of that constitution so that we can make maximum use of our rights.
Recognize there is no region ordained for poverty we have the same redemptive rights and the same
God's bailout platform is based on covenant it is our understanding of His covenant that empowers us to work in financial dominion. It is encounters that changes a man's destiny. It doesn't matter who you are, if your part is not played you will not access the cover available in the covenant. Jeremiah 33:18-25. It is not important to understand it alone, but to engage the understanding James 1:22-25, John 8:39. Abraham was a liberal soul, a tither, a worshiper of God  in sacrifices, Genesis 18:4, Proverbs 11:4, Genesis 14:20.
It is one thing you engaged in that saves you from all things Genesis 8:21, Proverbs 10:22, Philippians 4:19, Obedience is one of our most potent weapons of war. It's the most silent breakthrough force 2 Corinthians 10:1-4. Full obedience puts us in full command. Raw obedience is key to excellence, John 9:7, Deuteronomy 28:1. Our problem is nothing else but disobedience or negotiated obedience, Psalm 112:1-7. Obedience to the command will put you perpetual dominion Jeremiah 19:6-8. There is always a story behind the glory. Tithing is the controlling law in the school of financial fortune is God's Kingdom. Tithing does not just brings the blessings, it secures the blessings as well. Hebrews 7:8, Philippians 4:15-19.
Every seed sown is a spiritual transaction ordained to provoke divine intervention, Hebrews 7:8. Ezekiel 36:27, 2 Kings 5:14 Obedience is what gives beauty to redemption.
PRAYER: Oh Lord, fill me tonight with the Spirit of obedience.